Located in Gassville, Arkansas, the heart of the Ozark Mountains, Nima's Pizza has been in business for over 20 years as your hometown pizzeria with world-renowned pizza – judged by many to be the best pizza they have ever eaten!  We use only the freshest ingredients from local vendors (where possible).  What started as a small retirement business has become a national champion and world-famous pizzeria and restaurant.
Since we are near the #1 Trout fishing spot in the U.S., it only makes sense that vacationing folks, stop by just to grab a taste of our USA Best Traditional Pizza, and it's always as good as they remember it.
Locals enjoy stopping in for a chat and tasting our unique flavors all year round. Whatever the occasion, we're here to provide you with the taste of a lifetime!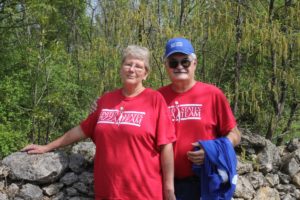 It all started when a guy came to Las Vegas to work on a race car and met a realtor who gave him a reason to settle down.  Rick and Jane Mines visited the Mountain Home area for many years coming primarily for the fishing.  So,  when they began to talk about retiring, it was natural to consider making Gassville home.
To hear Rick tell it,  he was retired for all of about 20 minutes.  He was curious about a local pizzeria named Nima's —a name taken from the original owners, New York brothers Nicholas and Mauro.  The owner told Rick he should buy it.  Rick offered to sit in a corner for six weeks to watch the operations.  "It didn't take much to figure out this could do a lot more."  Next, he had to convince Jane, who loved to bake, that making pizza dough wasn't much different than her love for pastries.
Soon, local residents and seasonal tourists were enjoying the passion that the Mines put into their post-retirement careers.
Quite by accident, Rick and Jane began competing in the International Pizza Challenge.   Some traveling fishermen stopped by for a pizza.  About six weeks later, Rick received a call inviting them to enter the competition in Las Vegas.  Thinking a free trip to Vegas would be great, Rick accepted.  He later found out he would have to cover the expense, but the competition was an invitation-only event and very unusual that a "chance" meeting would extend an invite to such a prestigious event.
So, they entered the International Pizza Challenge, and in 2010 walked away with the title of "USA Best Traditional Pizza." They went on to win second place in the world with that pizza—losing by only four points to a chef from Italy.  They have been competing for nearly 10 years and won a distinguished title most every year!